TONIGHT'S FULL LIBRA MOON UNDER THE AUSPICES OF LOVE & ART
"We don't belong to culture. We're sunsets." — Lisa Robertson
We find our way of life changed. Cultural institutions, gatekeepers, scenes, habits, the arts, our ways. Our ways. To rephrase George Oppen, there are things we can see and to see them is to have the feeling that we are part of the culture. We can't see these things right now, at least not in the same way. And so, our relationship with Venus is changing. Venus is changing. Venus has just entered Gemini — wherein, to quote Cummings, she "touches with the mind." Mercury airdrops curiosities, certain turns of phrase, information lust. An experimental Venus, a Venus that asks us to learn about her dynamically, rigorously, playfully —
THE VENUS EXPERIMENT WORKSHOP commences on April 22, the new moon —because both lunations this month are under the care of V and because she's doing some wild stuff this spring (more on that later). as in COSMIC EDGES (which you can download and which was quite fun), we'll be entering the Venusian through art, writing, astrology, and myth…..
I WRITE TO YOU, THOUGH from sunrise. I don't understand what's happening to "the culture" but I get that the sun is beaming fiercely into my right eye and making those little spots. A sun that beholds the culture, that fuels the culture but is not of it. A sun that is "passing through this happening" (Celan) as we are, or whatever. So Venus is culture and sunsets — sociability and natural beauty, a smear of eyeshadow, the Guggenheim, Leaves of Grass, grass….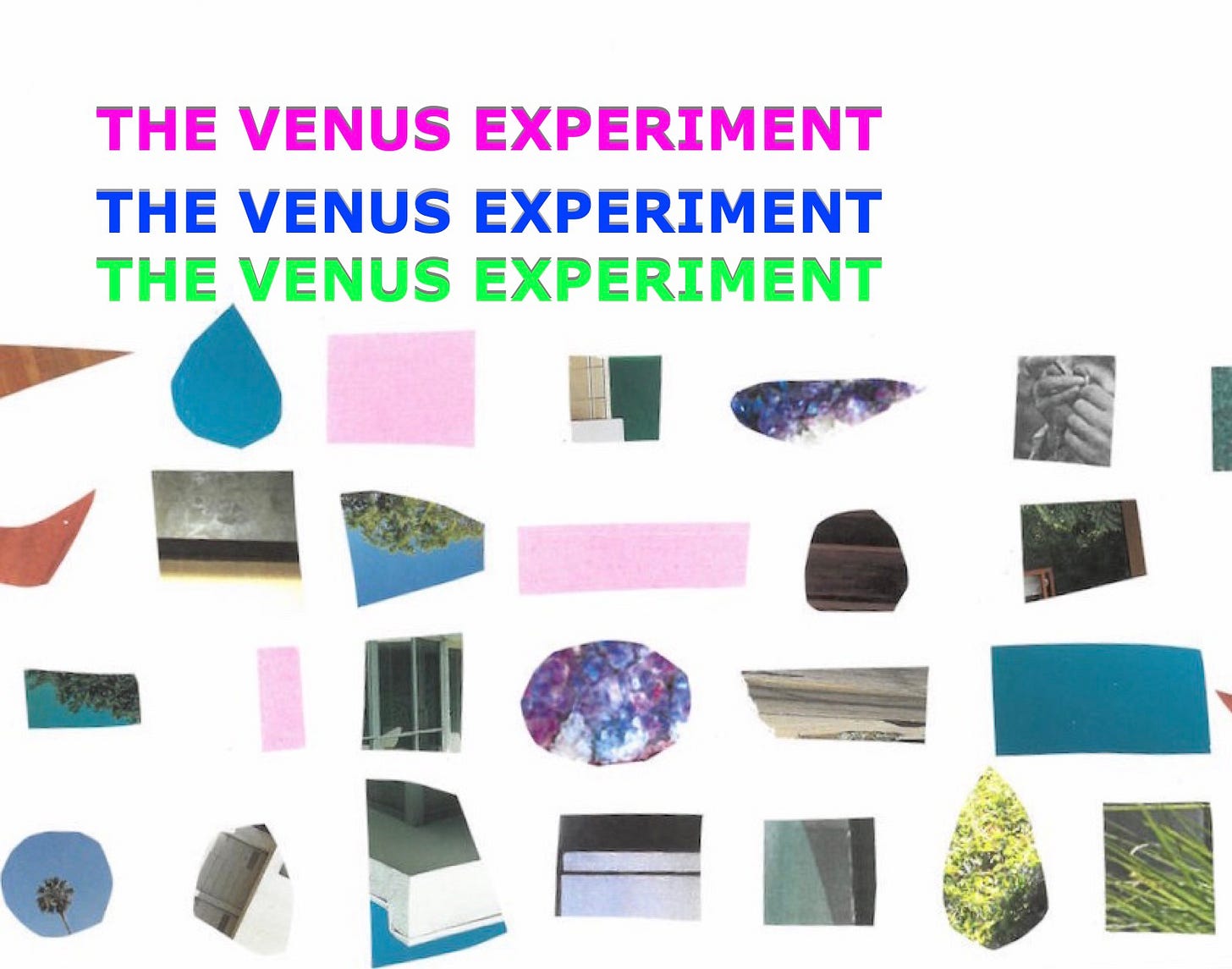 THE MOON IN THE HOUSE OF VENUS
STRANGE that it's only been ten days since our last correspondence. time is different now, right? whatever was tethering us to our previous reality has loosed itself and, at least for me, cast a certain kind of spell wherein my relationship to ART (Venus) and the natural world (also Venus) — is changed — though i'm not sure if i can here explain how. seems our current quandary is doing some alchemical thing —
THE MOON, which tonight at 10:35 pm is full in Libra, one of Venus' houses — is, among other things, earth's satellite — ever-reflective of what we're up to, what's afflicting and sweetening us, and what afflictions seem to be making us sweeter. if the moon is the city — the changing and wildly populated streets of our lives, the sun is primary time which hovers above our earthen experiences, which still yellows the streets even as we are indoors. the sky moves on, it reminds us. and it moves in a circle. gold. as the alchemist's called it, prima materia. first matter. whatever invisibly holds us together — gives us the feeling of an original force above and beyond our freaky human stuff. beyond Venus, our birth charts. a "core realization" at which we arrive after the alchemical process. reckoning? which feels like…..?
ZODIACAL AIR
SOCIAL STUFF, this Libran moon does. our sky is getting airier — more theoretical — a little ZOOM(ier), techy mobility. you can feel that, right? Saturn is now in an air sign (Aquarius), Venus just moved into Gemini, where she'll be in residence through August 7th — and she's also the caretaker of this full moon in Libra. a triangulation of the mental element:
"air, i've got more air on the other line. can you please hold?"
"no."
"k. i'll merge the calls."
the sun is still in Aries, of course — a fiery pheromone. so the Libra-Aries (VENUS-MARS) axis is always and especially today, about questions of the SELF & the OTHER(S). how we maneuver the joysticks of our lives vs. how we dissolve. how we do social justice. how we are sunsets. how social justice IS harmony, is beauty. how we filter our sensorium of experiences through the arena of the mind, another kind of alchemy. this newsletter. etc.
I THINK OF LIBRA as the people-watching kind of socializing. whereas Gemini likes to do zoomed-in conversation with expressive gesticulations of hand and face and Aquarius likes the idea of interacting, Libra is fascinated less by HUMANITY and more by PEOPLE — our juiciness and oddities, our shared pain. Libra loves to watch us realize the truth of what this archetype knows in its bones — there are no "higher level souls" and there can be "no king (or queen) where everyone is king-queen by divine right." (Rudhyar). we are not allowed to close-talk at the moment, but we can watch people from 6+ feet away — the Libra moon reminds.
HOW TO SEE not in black and white but in prismatic grey? to know in the body-mind that we are all capable of greatness, meh-ness, and horror? Libra teaches us about leveling the playing field. we are all particles on Libra's scales of justice. no soapboxes, no kings, just scales. and this is Venus's sign, so the scales are baroque, kind of sexy…
VENUS VENUS EVERYWHERE & A FAREWELL QUESTION
2 VENUS-RULED LUNATIONS THIS MONTH:
FULL MOON IN LIBRA: TONIGHT, APRIL 7TH (TONIGHT)
NEW MOON IN TAURUS: APRIL 22ND (WE COMMENCE VENUS EXPERIMENT)
how are you?
what do you think of Venus?
comment below <3
x EMMALEA
IMAGE LIST
Isa Genzken, White Horses, 2008.

Moyra Davey, from Burn the Diaries.

Venus Experiment flyer, me.

Isa Genzken, Untitled, 2016.

Isa Genzken, White Horses, 2008.