THE SAME VAST BACKYARD: PISCES SEASON & POEMSCOPES
poets & fishes & the spine of the sea
~~~~~~HAPPY PISCES SEASON~FRIENDS!~~~~~~
An announcement, and then a long watery take on the season of the fishes, music&art, and yr poemscopes.
Mercury Rx is upon us and I'm offering 25-minute retrograde readings this Friday, February 21st at RA MA INSTITUTE in NYC, but you can also book a virtual session. I have 5 slots. They're quick like Mercury and we delve into how this retrograde cycle shows up for you & talk about your Mercury i.e. how your chart THINKS. Especially recommended for writers, those who move between wor(l)ds, and anyone Mercurious. Reserve your spot here!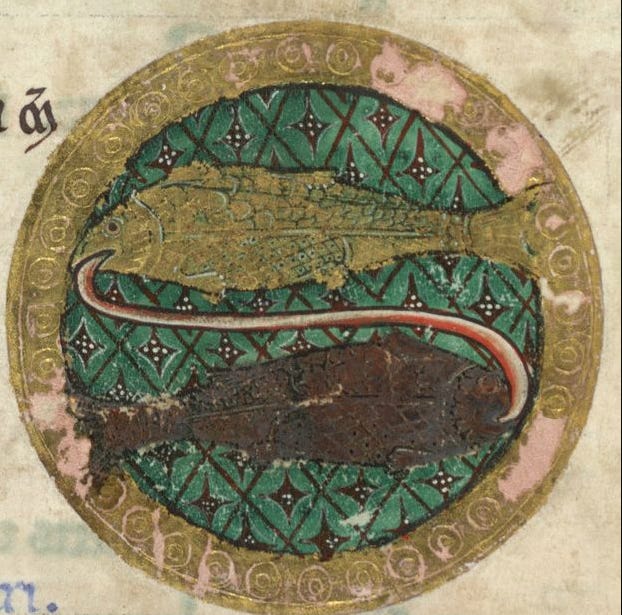 Yesterday, our Sun crossed into Pisces from Aquarius. Another way to say this: Our Sun left the realm of fixed, crisp air and entered the ocean, where Mercury currently is. As Mercury retrogrades through Piscean waters, so too the Sun illuminates that part of our sky/charts which is the collective consciousness. Which is everything-ness. As the final sign on the zodiacal block, Pisces holds the symphonic of whatever came before it. And so prepares us for the next cycle of seeding and releasing. But I am getting ahead of myself. Here's an impromptu fantasy by Chopin (Pisces):
A TALE OF TWO FISHES
You've seen the Pisces glyph — two fishes swimming away from each other but always bonded together — sometimes eternally strung with a rope. Perhaps you've felt this thing — the interconnectedness of everything even when duality seems real. Even though we live on a planet with two poles. The Pisces archetype reminds us that not only are we ONE THING, but we are part of a greater ONE THING. It's the recognition that worldly differences are real and painful — but there is a stirringly primordial interconnectedness beneath and at the start/end of it all. Call it a vibe, call it a spirit, call it oceanic — it sings (music is the preferred Pisces communique) with something beyond words or temporality.
PISCES WATERS
The first water sign, Cancer — offers us the liquids of the womb, a nutritively safe container for material growth. The second, Scorpio — gives us the fixed waters of the depths — the thick swamps we enter to understand the shadow. Pisces is mutable water, oceanic flow that moves in waves and prepares us for the next season. It's a large container, one that's meant for all kinds of consciousness — dream-states, fantasies, and the terrorful-blissed-out revelation that we are ALL ONE. Many years ago, someone I lived with told me a story that I've since written about a few times and often returns to me. It's about water, drugs, and oneness — all things Pisces and so I will tell it here. He found himself underwater in a foreign country after taking some drugs of the hallucinogenic variety.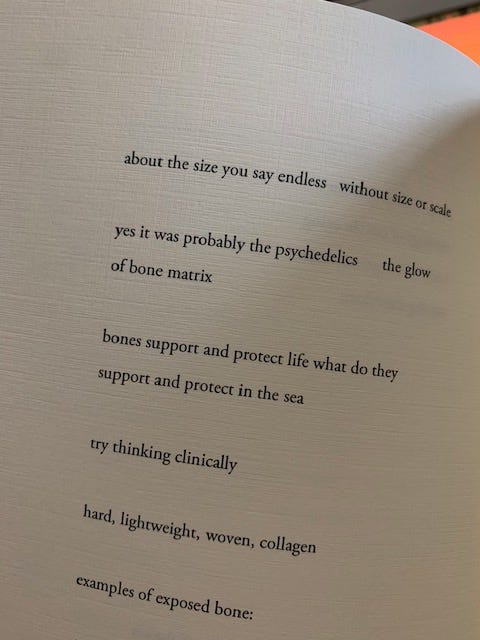 There, he saw what he described as "the spine of the sea." Below, you'll find another page of a book I wrote several years ago where I relayed his experience after he graciously gave me permission to do so. When he saw the "spine of the sea" — he knew that the sea itself was one creaturely organism. Un-separate from us or any part of itself. It's a drenched coalescence and one can't help but wonder what to do with that galactic 411. Usually, we need to drop into a meditative state or some other "non-regular" mode of consciousness to get these glimmering bits of Pisces intel. Perhaps you yourself have seen the spine of the sea…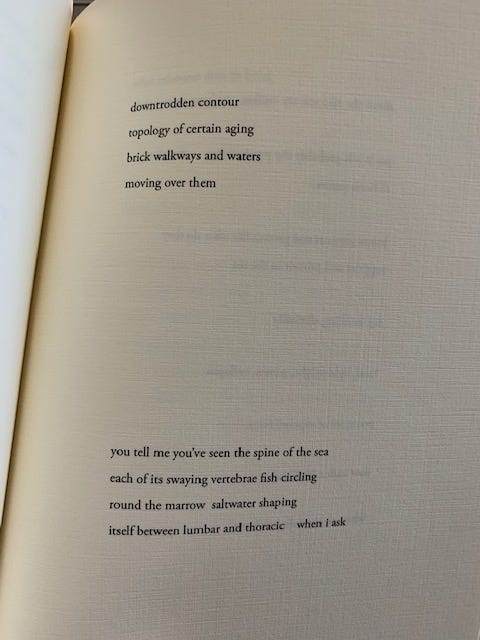 STREAMS OF CONSCIOUSNESS
A detail from the most famous panel of the Sistine Chapel, "The Creation of Adam", by Michaelangelo (Pisces) — which has always reminded me of those two fish — and the orchestral everythingness that artists can sometimes do with a gesture —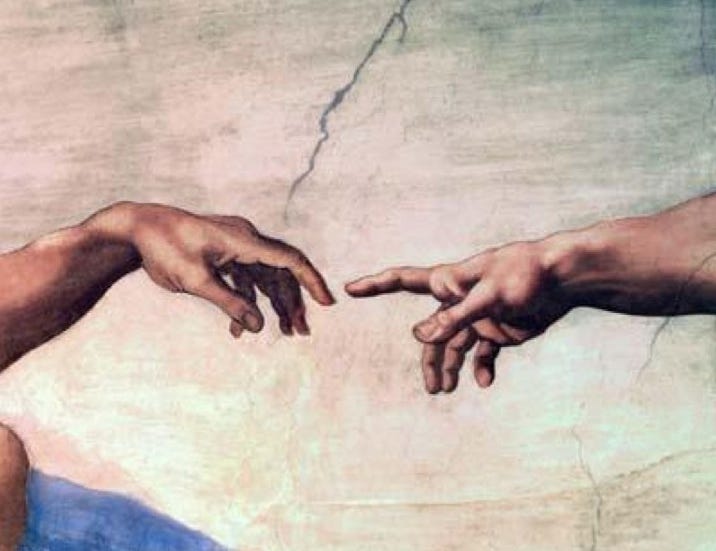 Pisces' ancient ruler is Jupiter — the king of expansion and cosmic order. The Jupiter of Pisces is a guru, a teacher, one who has traveled the world and/or the recesses of the mind and has learned through trippy experiences. Has donned scuba gear and dropped into a foreign body of water not to count the fishes but to find the spine. NEPTUNE, dream weaver extraordinaire and great hazy veiler of the skies, is also associated with Pisces. Neptune rules all sorts of streams — imagination, music, drugs, binge-watching TV, escapism, etc.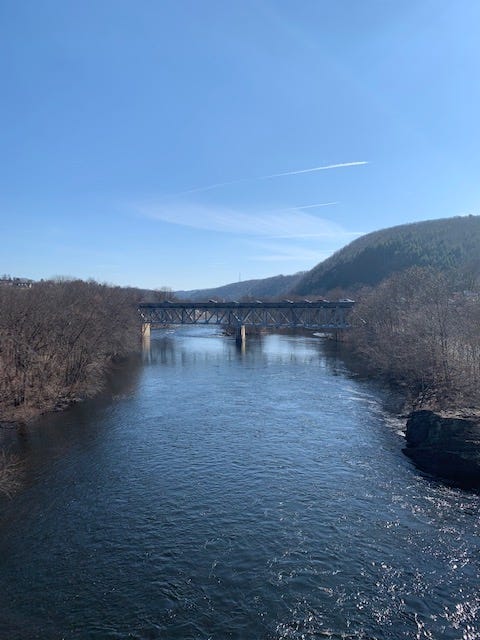 When we want to drop out and hide in the seductive realm of (insert here your preferred mode of escapism) until our eyes glaze over, that's Neptune. Neptune also visits us whenever we feel addictions glossing a sheen over our line of sight. But so too Neptune is the revelation at the bottom of the ocean, the knowledge of the other world that is always present in this one, and the dreams that grant us mystic bits of knowledge we couldn't otherwise access. Neptune glimmers. And so is seductive. And so probably best to make friends with our Neptunes and learn to speak Neptunian — because the sea has different rules and verbiage than earth. But it's the sea from whence we sprang. And there is always something familiar about the Neptunian realm of Pisces. Like huh, I've been to this place before. And/but huh, it's so f*cking weird. And/but huh, I don't want to leave because I hear the music of my homeland that's been mystically remixed and dunked in the sea…
"THE SAME VAST BACKYARD"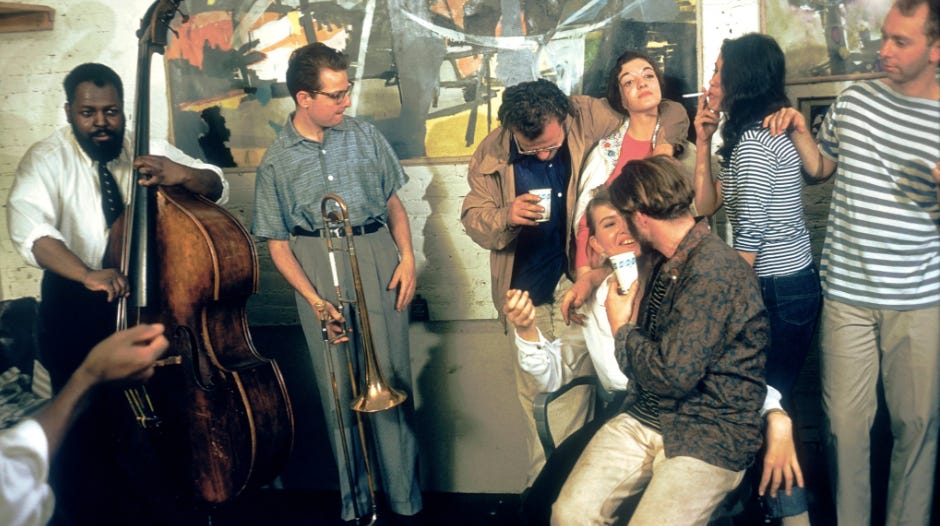 Jack Kerouac, a writer made famous for being ON THE ROAD and for STREAM OF CONSCIOUSNESS writing and who famously said, "I felt free and therefore I was free", was a Pisces. I sometimes tell my clients with strong Piscean charts or a Mercury in Pisces that stream of consciousness writing is a way to access their microphone. To keep the pen moving, to not overthink, and to give credence to what comes up organically, to write down dreams, and to note where the mind goes when it wanders unrestricted. To let it play. Kerouac, from ON THE ROAD:
"And as I sat there listening to that sound of the night which bop has come to represent for all of us, I thought of my friends from one end of the country to the other and how they were really all in the same vast backyard doing something so frantic and rushing-about."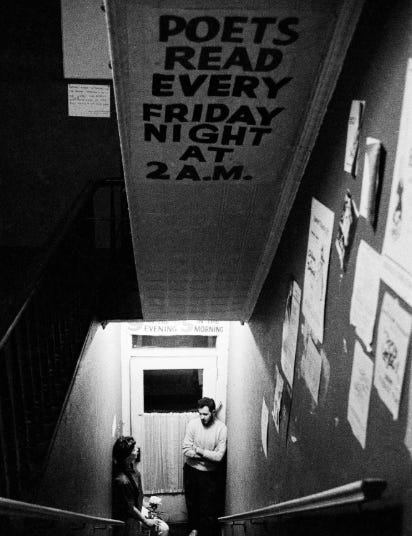 The Pisces archetype has something to do with knowing that we are all in the same vast backyard, oceanic and vibratory. When writing becomes music and we join the parties of tomorrow…
THANK YOU, as ever, for reading. Below, you'll find your scopes. If you're interested in working together, here's a link to my offerings. And as always, reply to this email with any questions/comments. <3
YOUR POEMSCOPES FOR PISCES SEASON
ARIES
You are a vibe in the mind of the ocean. If you make friends with what ails you, you'll get to swim in the waters of the most alluring sea and discover what you never thought possible. Heed the calls of your dreams. If you don't already meditate, this month begs you to.
TAURUS
The best way to feel like you're part of something is to be amongst humans. Kerouac's "the only people for me are the mad ones" could also be "the only people for me are the ones who are people." One option: To remember that all people are people and to hang out with them. Like, really hang out with them.
GEMINI
This month delivers two of your favorite things to the most lit part of your sky: a megaphone and the Sun itself. You're already a master of the HOT TAKE but this month there's something "nearer to vital truth" that you'll want to speak audaciously into the light.
CANCER
You're feeling, as Kerouac wrote, "the too-huge world vaulting you." You get farther away from that which you're familiar with, adamant and unswerving as you vault into the unexplored with audacious perspective. Mercury reminds you that the same vast backyard awaits, so cool also to befriend whatever's in the rearview.
LEO
Mirror, mirror on the wall — who's the deepest diver of them all? The house of sex and death is like your winter home: hidden, baroque, and everyone's wearing weirder clothes. Here, you party in a different way. Revelations coming re: every taboo question you've been afraid to hold up to the light.
VIRGO
Your planetary caregiver, Mercury, has gone fishing. Still, you can see her. Still, you can hear her familiar reverberations redoubled back to your heart. They're saying something about dissolving below the horizon — about separating from the Sun so that you and your winged messenger can do what you do best: gather info and deliver it with grace, wit, and hits of truth serum in the form of dark humor.
LIBRA
HOME is just another word for the BODY and the body is what your consciousness keeps returning to. Like, a little pain here, a little pleasure there. What's up with this earthly vessel?! If you heed the call and care for it with verve and sweetness, it will be as prettily comfy as that midcentury sofa you've been eyeing.
SCORPIO
You might start wearing leopard print this month, at least proverbially. Mars, your caregiver, is getting chiseled and shined in Capricorn. Meanwhile, all month you're into bohemian hedonism and spontaneous creativity. It's like you're the lipstick the world's wearing. Careful you're not "so busy being cool that you forget the word love," as Diane di Prima cautioned.
SAGITTARIUS
The past carries with it a certain weightiness that lately you feel on your back. You're at the bottom of the sky, furtively sorting that shit out. Remember what Allen Ginsberg said about the weight of the world being LOVE. One option: Live in the O of LOVE and feel ethereal while hanging out at your roots.
CAPRICORN
You're deciphering every kind of communique right now and re-learning how to use your own voice, supercharged by the ferocity of Mars, who's a kind of longterm houseguest in your abode. How exactly do you want to translate what you know? And to what audience? A hint from Audre Lorde: "Without community, there is no liberation."
AQUARIUS
You're feeling, as Frank O'Hara said, "The clouds get enough attention as it is." So you turn to the Original Art: Earth. And your vessel: Body. As you get grounded, you become the hero you've been holding out for — spending all month adding proverbial coinage to your self-worth. Noblest of projects.
PISCES
You've been, to quote O'Hara, "quietly waiting for the catastrophe of your personality to seem beautiful again, and interesting, and modern" and this month as the Sun illumines your command center, it does. It is. You are. As Mercury retrogrades thru your lit personality — she drops bits of cosmic 411 waiting to be deciphered by specifically YOU.
IMAGE LIST
A medieval depiction of the Pisces glyph.

BOOK OF SOUTHERN AND WATER (by me) Poor Claudia, Portland, Oregon, 2013.

"

The Lehigh River. Feb. 17, 2020.

Michelangelo, "Creation of Adam" from the Sistine Chapel.

Burt Glinn: https://www.nytimes.com/2018/06/26/lens/beat-scene-new-york.html

Burt Glinn: https://www.nytimes.com/2018/06/26/lens/beat-scene-new-york.html